News
2020 Winter auditions are here!
They will take place Thursday January 16th from 8:00PM to 9:30PM in Hart House's Music Room AND Saturday January 18th from 3:00PM to 5:00pm in Hart House's South Sitting Room. We welcome you to sign up for a 10 minute time slot here.
Your audition will consist of:
1. A quick warm-up, led by us.
2. A brief test of your ability to learn music and harmonize
3. A ~1 minute solo of your choice, to sing without accompaniment. Pick a piece that best suits your voice and shows off your range!
If you are able to beatbox, let us know and show us your stuff!
Please only sign up for one slot, and arrive 5 minutes early for your audition. Drop-ins are available for all audition dates, but slots tend to book up quickly so signing up is recommended.
---
Who We Are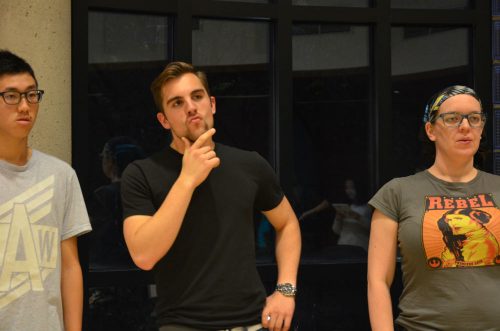 Tales of Harmonia (ToH) is a mixed 30-voice auditioned choir that aims to provide talented musicians with the opportunity to pursue excellence in music within a friendly, focused environment. Our members range from undergraduate ArtSci and EngSci students to graduate students and recent alumni.
Operating from the Multi-faith Centre, we explore all corners of the musical universe, including television and cinema hits, your favourite pop classics, a cappella, musical theatre, Disney, classical music and more. We strive to provide an eclectic experience by celebrating music in all its beauty, glory, and majesty!
---
Our Conductor
If you could only keep one among sight, hearing, taste, and smell, what would you choose? Most people choose sight in fear of living in the dark. But that is a mistake. Because without sound, there is no music. And that's darker than anything.
Music has been an integral part of my life since childhood. An avid composer, trumpet player, pianist, and singer, I have participated in various musical ensembles, from bands and orchestras to classical solo performances and musical theatre.
Though what I'm studying and what I love are different, I have not wavered in my passion for music during my pursuit of a career in medicine. I hope to use my eclectic array of musical experiences to share my love for music through ToH.
---
Past Concerts
---
Social Media